Estepona, Costa del Sol Occidental, Malaga, Andalusia, Spain
For Sale
From €455,000 - New Build Apartment, New Build Penthouse
PROJECT DESCRIPTION
140 Exclusive Residences and Penthouses set in a tropical, gated community. Thoughtfully designed by Villarroel Torrico to seamlessly blend into the environment, Ayana accentuates the quintessential lifestyle and casual vibe of Estepona.
Thoughtfully designed to seamlessly blend into the environment, this project is designed to accentuate the quintessential lifestyle and casual vibe of Estepona.
Ayana showcases an exceptional and truly effortless living experience. Featuring sophisticated architecture by Villarroel Torrico, inspiring interiors from Gunni & Trentino and as a standard fitting in every apartment shaowcases Lutron's wireless smart-home automation system, a first for apartment development on the Costa del Sol .
Ayana is built around 27,000m2 of tropical, landscaped gardens with three outdoor pools, one of which is heated, a central Clubhouse complete with co-working lounge, café bar, spa, indoor pool and gymnasium – and with 24-hr security.
Clubhouse with co-working lounge, cafeteria, spa, gym & indoor pool
24hr security
Two resort style swimming pools, one of them heated, with
poolside "chiringuito" & children's pool
27,000m2 tropical landscaped gardens
R E S O R T  C O M M U N I T Y
APARTMENTS FEATURES
Iconic architecture by award winning VillarroelTorrico
Spacious interiors, private terraces & rooftop solariums
Choice of 2/3 Bed Residences & 3/4 Bed Penthouses
Full wireless home automation by Lutron included with every apartment
Energy efficient A/C & underfloor heating by Daikin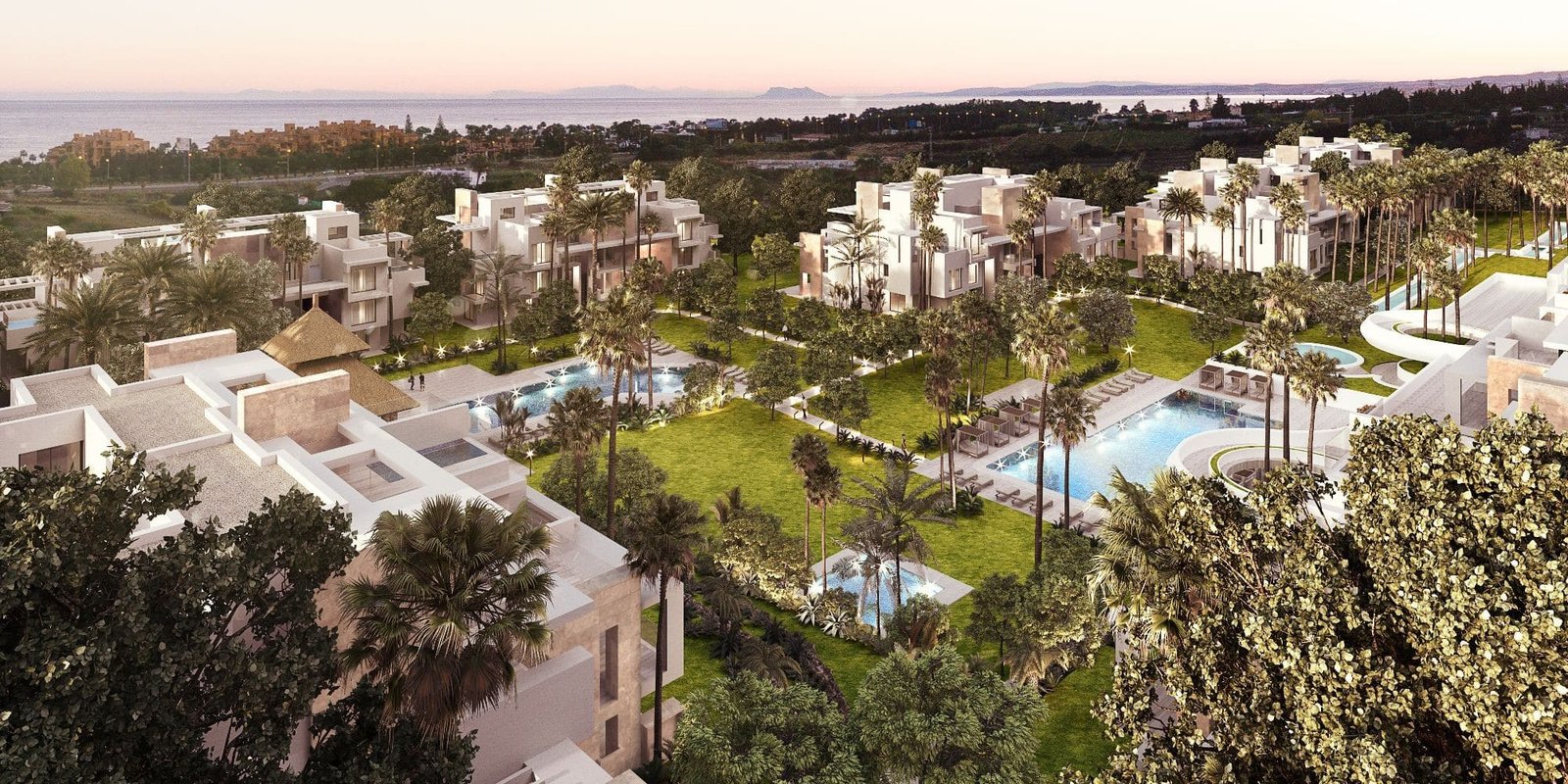 LOCATION:
The New Golden Mile is growing as a wealthy seaside strip east of Estepona, inspired by the original Golden Mile, a 6.5-kilometer-long promenade that connects Puerto Banus with Marbella town.
The Estepona new development area, inspired by its more famous neighbor, is quickly becoming the most known new location for luxury houses on the Costa del Sol.
MORE INFO ABOUT THE AREA: THE NEW GOLDEN MILE NEWS ARTICLE
INDOOR POOL & SPA
The elegant Indoor Pool & Spa is one of the development's main features. It has been carefully designed as a space to rest, reflect and recharge and offers a full range of treatments.
GYMNASIUM
For those residents looking to keep fit, there is a well equipped gymnasium.
CAFÉ LOUNGE & CO-WORKING
The Café Lounge & Co-working space at Ayana serves a myriad of purposes – as a lounge, café, co-working space and chill out zone for Ayana's residents.
PRICES:
APARTMENTS
2 beds from €393,000
3 beds from €449,800
PENTHOUSES
3 beds from €1,037,000
4 beds from from €1,258,000