Casares del Sol, Casares Costa, Casares, Costa del Sol Occidental, Malaga, Andalusia, 29693, Spain
For Sale
from €225,000 - New Build Apartment, New Build Penthouse
1, 2, 3 Bedroom apartments in Casares, near Estepona
This new project is a thoughtfully developed apartment complex, featuring 47 units in configurations of 1, 2, and 3 bedrooms. Each residence is complemented by a designated garage and storage room, offering an optimal blend of convenience and functionality.
Facilities within this secure, gated community cater to a range of lifestyle needs. It boasts a swimming pool for relaxation and recreation, beautifully manicured gardens for leisurely strolls, and a children's playground, encouraging outdoor play and social interaction.
The project's design philosophy is rooted in harmony with its environment. The construction seamlessly integrates with the rich topography of the plot, capitalizing on its unique characteristics to present stunning, panoramic views of both the sea and mountains.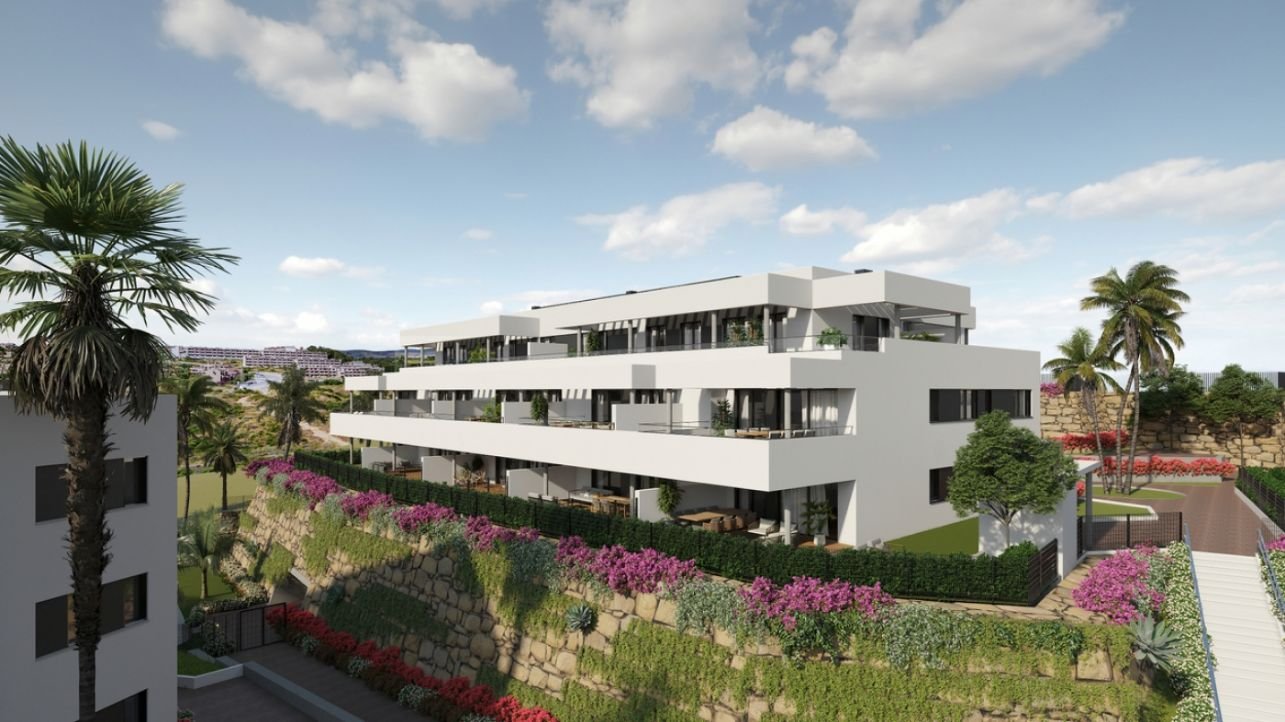 Each home within this project is kitted with a fully equipped kitchen, sizeable terraces, and a host of premium features such as aerothermics for hot water and pre-installed infrastructure for electric vehicle charging for embracing sustainable living. Ground floor apartments furthermore enjoy private gardens for personalised outdoor space.
The location of this project, in the picturesque town of Casares, further complements its appeal. Nestled next to the Sierra Bermeja Nature Park
MAIN FEATURES
Comprised of 47 apartments featuring 1, 2, and 3 bedroom configurations.
Every apartment comes with its own garage and storage room.
It is a secure gated community that includes a swimming pool, well-maintained gardens and a children's playground.
The design integrates the construction with its surrounding environment, offering magnificent 360-degree views of the sea and mountains.
Equipped kitchens are standard in all apartments, which also boast large terraces and high-grade features.
Innovations for sustainable living include aerothermics for hot water and pre-installation for electric vehicle charging.
Ground floor apartments benefit from private gardens.
Located in scenic Casares, next to Golf courses
| Type | Floor | Living place | Dorms | Baths | Price | Garage |
| --- | --- | --- | --- | --- | --- | --- |
1.1.0.A
Ground floor
120.28 m2
3
2
375.000 €
1
1.1.0.B
Ground floor
110.03 m2
2
2
324.000 €
1
1.1.1.B
Apartment
129.46 m2
3
2
362.000 €
1
1.1.2.A
Penthouse
115.6 m2
3
2
428.000 €
1
1.1.2.B
Penthouse
102.64 m2
2
2
374.000 €
1
1.2.0.B
Ground floor
110.03 m2
2
2
324.000 €
1
1.2.1.A
Apartment
120.28 m2
3
2
355.000 €
1
1.2.1.B
Apartment
129.46 m2
3
2
362.000 €
1
1.2.2.A
Penthouse
115.48 m2
3
2
412.000 €
1
2.1.0.A
Ground floor
86.32 m2
2
2
235.000 €
1
2.1.0.B
Ground floor
120.52 m2
3
2
345.000 €
1
2.1.0.D
Ground floor
82.25 m2
2
2
262.000 €
1
2.1.0.F
Ground floor
120.52 m2
3
2
340.000 €
1
2.1.1.A
Apartment
86.78 m2
2
2
224.000 €
1
2.1.1.B
Apartment
120.52 m2
3
2
320.000 €
1
2.1.1.G
Apartment
86.39 m2
2
2
224.000 €
1
2.1.2.A
Penthouse
88.46 m2
2
2
316.000 €
1
2.1.2.B
Penthouse
106.82 m2
3
2
415.000 €
1
2.1.2.C
Penthouse
107.85 m2
3
2
420.000 €
1
2.1.2.D
Penthouse
88.06 m2
2
2
358.000 €
1