When you buy a new house in the costa del sol, you can expect certain features to be included. Here are some of the most popular features you may expect when buying a new home in the current day:
1) Warranty of ten years
A 10-year warranty is commonly when buying a new development in the Costa del Sol. This will provide you the assurance that you will not have to pay any serious structural repairs during this time.
This is an advantage that is rarely, if ever, available when purchasing an existing home. When you buy an existing home, you are responsible for all repairs from the moment you are the owner of the property.
2) Energy-efficiency
Energy efficiency standards have considerably increased over time. As a result, today's homes are up to 65 percent more energy efficient than those built in the past. This saves the environment while also saving you on your heating bills over the course of the year.
3) Kitchen of the Future
A new build home in the Costa del Sol usually comes with a newly installed kitchen.  In a new build house in the Costa del Sol, an open kitchen design is the current standard. Removing partition walls from a kitchen can make it appear larger. In contrast to the smaller closed kitchens found in older homes and apartments, open kitchens are also a more modern way of life.
Without any obstacles, there is a connection between living room and the kitchen area Therefore the house appears to be bigger.
It has also social significance because it allows more social engagement between two important spaces of the house.
It also Increases the space's versatility; for example, a kitchen counter can be used as bar seating.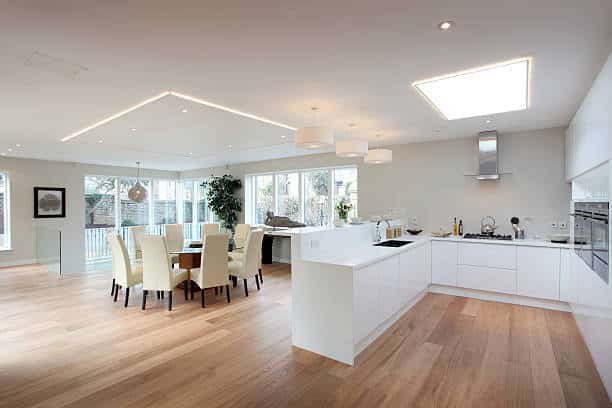 4) Insulation of the highest quality
High-quality insulation is one of the energy-saving characteristics of new construction homes. There may be very little insulation in second hand homes in the Costa del Sol. Even if insulation is present, it may not be of good quality. The quality of insulation in new homes, on the other hand, is a major selling factor.
5) Heated floor
One of the most comfortable features you can look for in a new house in the Costa del Sol is something you'll probably won't find in a second-hand home. Having a heated floor in your kitchen or master bathroom is a luxury that is going to make the winters more pleasant. If you don't like getting out of the shower onto a cold floor or standing on a freezing cold kitchen floor to prepare the breakfast, you should look for this feature.
6) A smart house (Domotic system)
A smart house is a home with internet-connected appliance that allow remote monitoring and control of appliances and systems like lighting and heating.
Smart home technology, also known as home automation or domotics (from the Latin "domus" meaning "home"), allows homeowners to remotely control equipment via a smart home app on their smartphone or other networked device, providing security, comfort, convenience, and energy efficiency. Smart home systems and devices usually share consumer usage data and automating activities depending on the homeowners' preferences.
Some examples of smart appliance can be:
Smart security cameras, house owner can keep an eye on their houses when they are abroad or on vacation thanks to smart security cameras.
Smart thermostats which have built-in Wi-Fi, allowing home owners to program, monitor, and regulate home temperatures remotely, and even kitchen equipment such as smart coffee makers that can prepare a fresh cup of coffee in the morning before we wake up.
7) Floor-to-ceiling windows
Sometimes called "walls of windows," is basically a huge window that provide the illusion of a glass wall. Floor-to-ceiling windows allow to brighten the room and let plenty of natural light. This access of natural lighting can help you save in electricity bills, resulting in significant long-term savings.
8) Aerothermal heating and heat pumps
These pumps are built to work at their best efficiency in extreme weather conditions, both in winter and summer, by gathering energy from the outdoors and delivering it to the house's heating and hot water system.
Traditional heating systems they can never achieve 100 percent net performance because they generate waste of non-combustible particles that you pay for but are not burned.
The aerothermal pump, on the other hand, may achieve a performance of up to 700 percent.
Aerothermal system uses around a quarter to a third of the electricity needed to operate from your outlet, and the rest is coming directly from the air at no cost.
9) Solar Ready:
If the property you want to buy in the Costa del Sol is a villa, then the developer has to prepare the roof for solar panels. Having all the wiring already set up rather than to do it later will save you money when it comes time to install solar panels.
10) Open floor plans.
Again, apart from the open kitchens you will also be looking for rooms that can be used in a variety of ways, depending on the current and future needs. A space that can be used as a guest room, a home office, a playroom, or a craft area. Home owners desire areas that are generic enough to be utilized flexibly when they first move in and can be changed as the family's needs vary over time.