Hospital de Alta Resolución de Benalmádena, Avenida Arroyo Hondo, Benalmádena, Costa del Sol Occidental, Malaga, Andalusia, 29639, Spain
For Sale
from €325,000 - New Build Apartment, New Build Penthouse, New Build Townhouse
COMPLETION DATE: 2025
This new apartment project is an exclusive private development situated in a privileged location in Benalmádena. Due to its elevated position, each of its homes offers incredible views of the sea and the coast. The stepped layout facing the Mediterranean Sea of this project allows each and every one of the 49 homes and 2 townhouses to enjoy always bright spaces, thanks to natural light.
The Costa del Sol, with its great variety of landscapes from the sea to the mountains, has been for decades one of the preferred areas for visitors from all over the world to enjoy tourism or as a place of residence.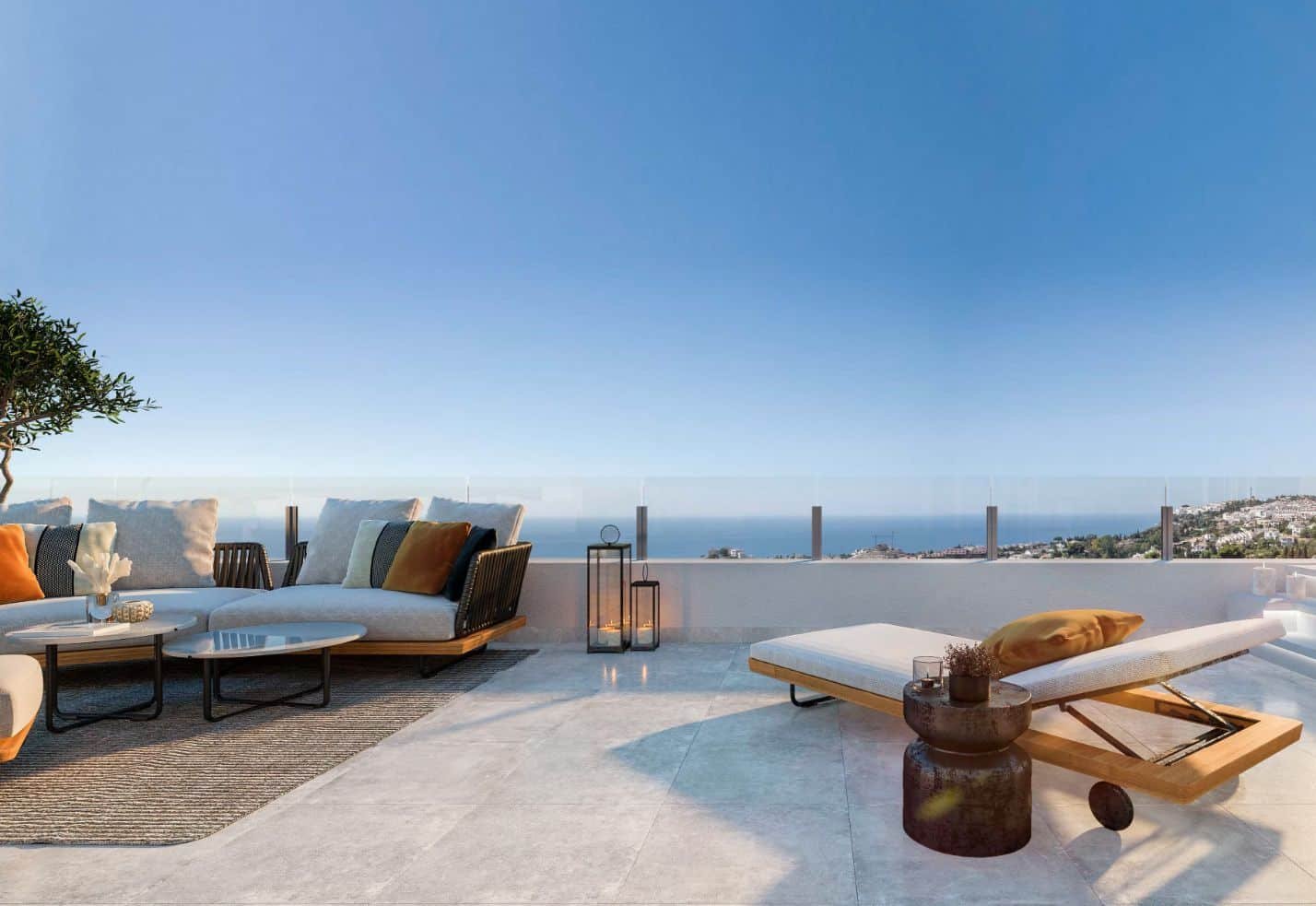 Benalmádena is a cosmopolitan city that looks out to the sea from its marina, an international reference for nautical and leisure activities, or from the edge of its 9 kilometers of coastline and its 17 beaches. Its strategic location and communication with Malaga capital make it one of the most coveted locations on the Costa del Sol.
This new development is located just 1 km from Xanit Hospital in Benalmádena. Within a radius of 3 km, you will find Torrequebrada Golf Course, the international school, Selwo Marina, the public La Paloma Park, and the old town.
The slope of the terrain allows for stepped homes where their large terraces take center stage with their glass railings that seem to merge directly with the sea in front, allowing for maximum enjoyment of the views and spectacular sunlight.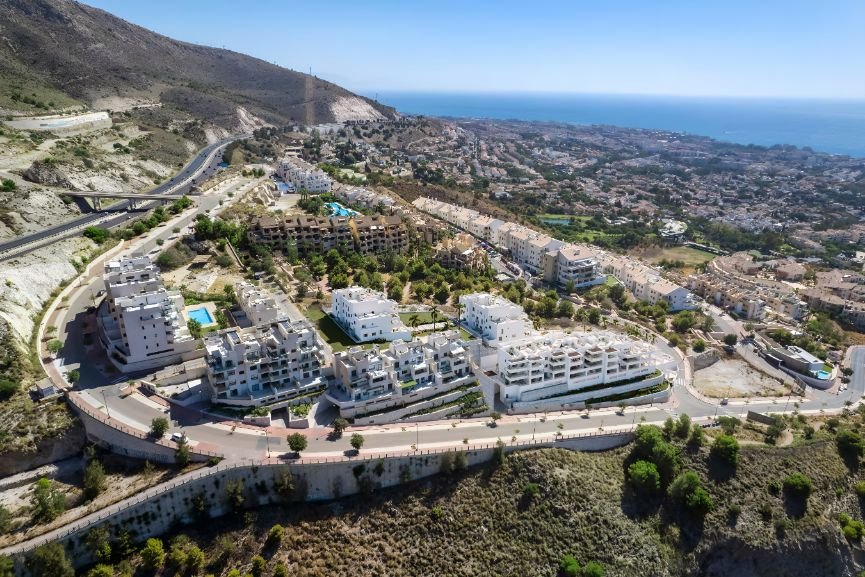 In the vicinity of the plot, there is an excellent range of all kinds of services, medical, educational, sports, and commercial. Among them, we highlight Benalmádena Golf with its family-friendly and relaxed atmosphere, Vithas Xanit International Hospital with its wide range of medical specialties, Novaschool Benalmádena Private School, and Benalmádena Pueblo Municipal Sports Center.
The development has convenient access to the A7 motorway, connection to the main arteries of the area, and communication to the main public transport routes.
This municipality includes from the foothills of the Mijas mountain range to the coast, from which it occupies a small strip.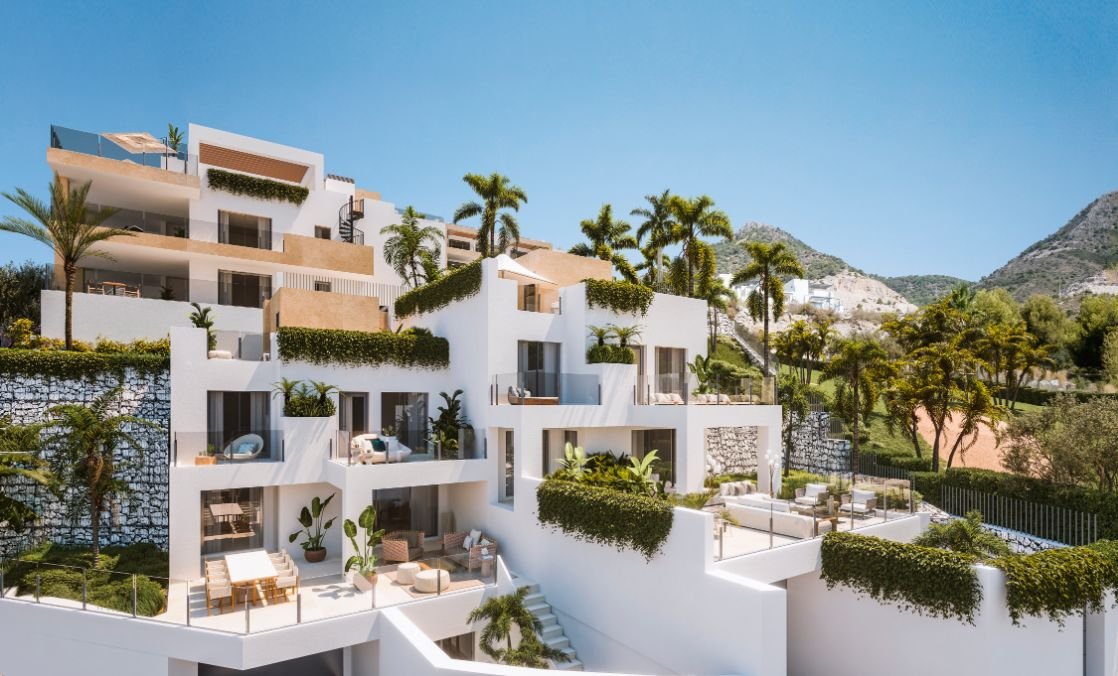 It offers several alternatives: first, the town, located in the upper part, of traditional architecture, which denotes its origin, from which you can see a beautiful panoramic view. Descending, we find an urban center of great importance, Arroyo de la Miel, where most of the population is concentrated with offers of interest such as an international amusement park. Finally, Benalmádena Costa, where most of the tourist offer of sun and beach is located: hotels, casino, golf courses, marina, etc.
MAIN FEATURES:
Exclusive private urbanization in a privileged location in Benalmádena, Spain
Incredible sea and coast views from each of the 49 homes and 2 townhouses
Stepped design allows for all units to enjoy natural light and luminous living spaces
Located in the popular Costa del Sol region, known for its varied landscapes and attractions
Just 1 km from the Xanit Hospital and within 3 km of golf, an international school, Selwo Marina, and more
Large terraces with glass railings maximize views and sunlight
Convenient access to the A7 highway and public transportation
Municipality includes foothills of the Mijas mountain range and a small strip of the coast, with different areas offering traditional architecture, urban centers, and attractions like amusement parks